The Church of England has held an official ceremony for its first female bishop at York Minster.
The Reverend Libby Lane has been ordained as the new Bishop of Stockport in front of more than 2,000 people.
The general synod, which governs the Church, passed new rules to allow women to become bishops in November last year.
The move ended centuries of male leadership of the Church and is 20 years after women first became priests.
Who is the Reverend Libby Lane?
She's been vicar of St Peter's Hale and St Elizabeth's Ashley, in Greater Manchester, since April 2007

Ordained as deacon in 1993 and as priest in 1994

Her husband, George, is also a priest

She is a Manchester United supporter and is learning to play the saxophone, according to her church's website
Divisions remain
The service was briefly interrupted by one man who is against the idea of women becoming bishops but the ceremony soon carried on.
Some people within the church are against the change. They say tradition dictates that only men should hold the most senior positions.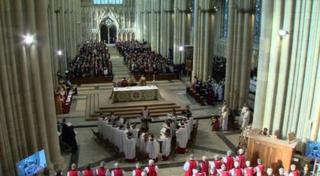 But supporters say there is no reason that women shouldn't be in the Church's positions of power.
Churches in Scotland, Wales and Northern Ireland already allow women as bishops, but haven't appointed one yet.