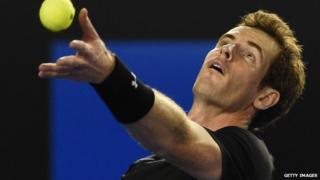 Getty Images
Andy Murray says he's ready to deal with a noisy Australian crowd when he faces Nick Kyrgios in the Australian Open quarter-finals on Tuesday.
The night session match will take place at about 8:15am UK time.
Kyrgios, who's 19, is the first Australian man for 10 years to reach the last eight stage; he'd be the first for 39 years to win the title.
"Obviously the crowd will be right behind him," said Andy; "that's just something that I'll have to deal with".
"I've played a lot of matches. I've played in the French Open against French players where the crowd can be very difficult. I've experienced it before, so hopefully I'll deal with it well."
The British number one will be playing in his sixth Australian Open quarter-final in a row.
"When you have the crowd behind you it obviously helps, makes a difference," Murray said.
"Especially if you're tired and a bit fatigued, the crowd can give you that extra lift and help as well. He's obviously handled everything very well so far."
If Murray wins on Tuesday, he's on course to meet Rafael Nadal in the semi-finals and Novak Djokovic in the final.
Home favourite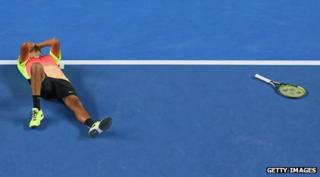 Getty Images
Kyrgios pulled out of the Australian Open warm-up tournament in Sydney with a sore back and has continued to feel the issue throughout the tournament.
However, he was fit enough to come back from two sets down to beat Italy's Andreas Seppi in a thrilling match on Sunday evening, describing the experience as "crazy".
"There was a lot of expectation coming into this tournament. I wasn't expecting anything, especially not quarter-finals.
"It's just massive, especially to do it in front of your home crowd."