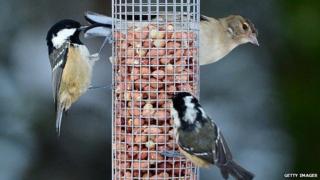 Getty Images
An annual campaign to count the number of birds around the country take places this weekend.
The nature charity RSPB which works to protect birds has asked families to count the birds they seen in their garden and report back online.
Last year the house sparrow, blue tit and starling were the most common birds spotted.
The campaign has been running for 36 years.
What have you seen in your garden?
I have seen a magpie on my trampoline.
Hafsa, Cardiff
Today I saw two robins and a little sparrow.
Aditi, Maidenhead
I saw a weird yellow bird.
Georgia, Essex
I saw a sparrowhawk in my back garden last Saturday, which is a bird of prey!
Molly, Surrey Hills
I have seen ducks, baby birds and eggs.
Lauren, Northern Ireland
Thank you for your comments. This chat page has now closed.