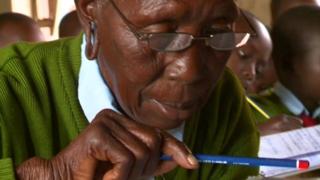 The world's oldest primary pupil?
Imagine going to class and having your great-granny sitting at the desk next to you. Well that's just what happens for kids at a primary school in Kenya.
Priscilla Sitienei has started going to lessons for the first time in her life at the age of 90.
She couldn't go when she was a child because her family didn't have enough money to send her to class.
But now her head teacher in Kenya's Rift Valley believes she is the oldest primary pupil in the world.
Priscilla wants to learn how to read and write and attends every class, including, dance, English and PE, wearing the same uniform as the rest of her classmates.
BBC reporter Ed Thomas spent a day at the school to find out why she wanted to go to school.
Watch more Newsround videos