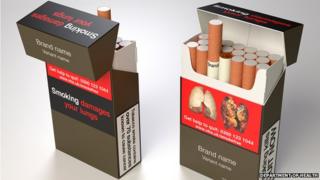 Department of Health
The government's planning to introduce plain cigarette packs in England, to try and stop the number of people taking up smoking.
If it's approved in May, the new law would come into force in 2016.
But cigarette companies are against the idea. They say there's no evidence plain packs would stop people smoking.
Wales has already voted to say it'll follow the English law, and similar votes are expected in Scotland and Northern Ireland too.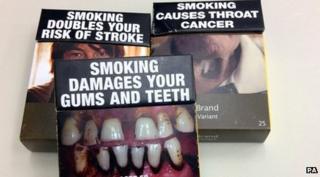 PA
'Protecting children'
Speaking in Parliament on Wednesday, Public Health Minister Jane Ellison said the change would make a big difference to the public's health, and especially children.
"We all know the damage smoking does to health," she said.
"This government is completely committed to protecting children from the harm that tobacco causes."
Figures suggest that as many as 200,000 kids across the UK take up smoking every year.
The British Lung Foundation and other health campaigners said plain packaging would reduce the appeal of cigarettes to young people.
But pro-smoking group Forest said: "There's no evidence that children start smoking because of packaging".