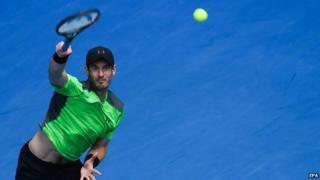 EPA
Andy Murray battled through the hottest day in the Australian summer to win through to the next round of the Australian Open.
He beat local hero, Aussie Marinko Matosevic in straight sets to move through to round three.
The Scot made the match look easy, even though the temperature got higher than 30C at times.
He'll now take on Portugal's Joao Sousa in the last 32. It's the seventh year in a row Andy's made it this far.