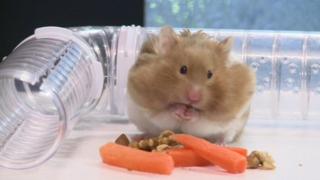 Do your pets have a secret life?
Ever wondered what kinds of things your pets get up to while you are out at school?
A new BBC One programme called Pets - Wild at Heart has been investigating just that!
From marathon-mad hamsters, to wall-climbing cats and chatty budgies, the team used exciting new camera techniques to get right up close and behind the scenes with people's pets.
In the show we meet Disco, the chatty budgie from New York, America, who can say over 130 phrases.
The two-part programme reveals what kinds of things our furry friends get up to when we aren't around.
It's on at 8pm tonight and will be available on iPlayer too.
Watch more Newsround videos