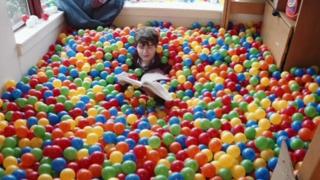 Man turns his room into ball pool
Struggle to get out of bed in the morning? Find it hard to leave that warm duvet? Well could a student in America have found a solution?
He's turned his bedroom into a ball pool.
After finding it difficult to get up, David Nicholl filled his room with around 13,000 plastic balls - and now he can't resist jumping out of bed.
Check out the room in the clip above.
Watch more Newsround videos