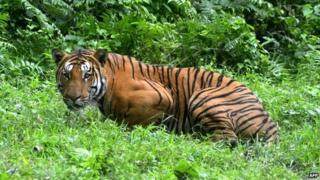 AFP
India says it now has almost a third more tigers than it did four years ago.
The Indian government today published the latest stats from its tiger census, which showed the tiger population had risen from 1,706 in 2011 to 2,226 in 2014.
India's environment minister said that better conservation efforts were helping the tigers and the results are a "huge success story".
It's thought that India is home to around 70% of the world's tigers.
The census - an official count of tiger numbers - uses camera traps to estimate how many are living in the wild.
1,411 in 2008; 2,226 in 2014
"While the tiger population is falling in the world, it is rising in India. This is great news," said Indian Environment Minister Prakash Javadekar.
He also said India could donate tiger cubs to other countries around the world, to help with tiger conservation.
Wildlife campaigners have been worried for some time that tiger numbers were dropping due to poaching and loss of habitat.
In 2006, census figures showed a tiger population of just 1,411.
Now Mr Javadekar says he hopes other countries will be able to learn from India's success to help protect tigers around the world.