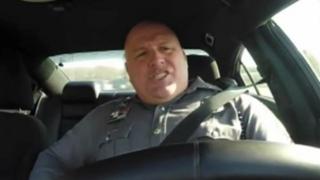 Cop's Taylor Swift mime goes viral
A video of an American policeman lip-syncing to Taylor Swift's Shake It Off has gone viral.
The clip shows Master Corporal Jeff Davis in uniform and driving a patrol car while lip-syncing to the song.
He says he knows it well because of his 10-year-old daughter.
And the policeman has even got the approval of Taylor Swift.
The singer posted online how much it made her laugh.
Check out the clip to see some of his dance moves as well!
Clip courtesy of Dover Police Department
Watch more Newsround videos