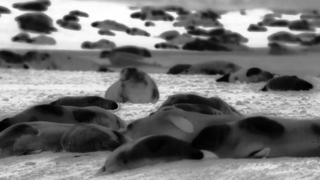 Seals' night 'secrets' revealed
The "secret" night life of England's largest seal colony, based on the north Norfolk coast, has been filmed for the first time by BBC Winterwatch.
A special thermal imaging camera has revealed young bulls "sneaking" into territories under cover of darkness in the hope of mating without being noticed - often resulting in fighting with other bulls on the beach.
Winterwatch presenter Iolo Williams said the footage from the Blakeney Point reserve was "incredible".
"Sitting on the reserve under moonlight with more than 4,000 seals was the experience of a lifetime," he said.
Winterwatch returns to BBC Two at 9pm on Monday 19 January or you can catch it on the BBC iPlayer
Watch more Newsround videos