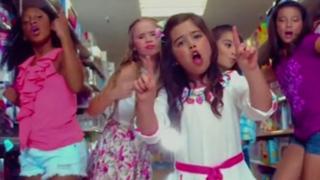 Britain's child star hits US charts
Sophia Grace Brownlee's face is probably one you recognise.
The 11-year-old found fame on American TV by appearing on The Ellen DeGeneres Show with cousin, Rosie McClelland, three years ago.
They were plucked from Essex and flown to America after the chat show host fell in love with their version of a Nicki Minaj track.
The pair's YouTube video has been seen by 47 million people.
Sophia Grace and Rosie soon became very popular in the US - interviewing stars like Katy Perry and Taylor Swift.
They also went on to make a movie and tour Australia.
But now, Sophia Grace is going it alone and has just entered America's Billboard music chart for best-selling songs.
She's been telling BBC Radio 1's Newsbeat all about her new song Best Friends and revealed what she would like to do next.
Watch more Newsround videos