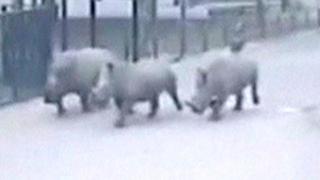 Rhinos on the run from Israel zoo
Three rhinos escaped from Israel's safari zoo earlier this month when a security guard fell asleep!
The three females, named Rihanna, Keren Peles and Karnabella, were caught on CCTV camera being chased by the zoo manager.
The rhinos fled after the guard fell asleep while manning gates which were opened to the public.
They were spotted by passers-by who called the police. The sleeping guard lost his job.
Watch more Newsround videos