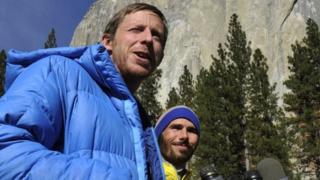 El Capitan climbers on making history
Two American climbers who conquered El Capitan in Yosemite National Park, USA, say they hope their achievement will inspire others.
Free climbers Kevin Jorgeson and Tommy Caldwell spent 19 days clinging on to the vertical rock face, eating and sleeping wherever they could on their journey to the top.
Kevin and Tommy became the first climbers to do so without aids, except for harnesses and ropes to prevent deadly falls.
Speaking to the press about their achievement, Kevin said: "I hope that everyone... can take the Dawn Wall as an example of what's possible".
Watch more Newsround videos