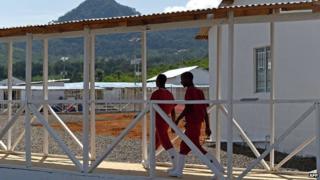 AFP
The United Nations has reported that the three countries worst affected by the deadly Ebola virus are showing signs of improvement.
Weekly stats showed both Sierra Leone and Guinea had their lowest totals of confirmed Ebola cases since August.
Liberia had its lowest weekly total since June.
In Guinea, schools and universities will reopen on Monday after being closed for five months to try to stop the disease spreading.
The latest outbreak began last February, over 3,500 miles away in Guinea, and spread to other countries in west Africa.
Since the outbreak doctors from many countries have been working hard to stop the spread of the virus.
Health experts say people in the UK should not be worried as it's extremely unlikely it will reach this country.