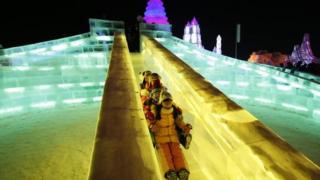 Ice slide is big hit in China
The Harbin International Ice and Snow Festival is in full flow in China and the Ice slide is a big hit with the visitors attracting long queues to have a go.
In Harbin some of the world's most amazing ice sculptures go on display every year.
The festival started in 1963 and is the largest annual winter festival of its kind attracting hundreds of thousands of visitors.
Amongst the impressive ice sculptures, this year multicoloured ice slides have become a real hit with tourists.
Watch Hayley's report to see a slider's-eye view of the chilly fun!
Read more:
Watch more Newsround videos