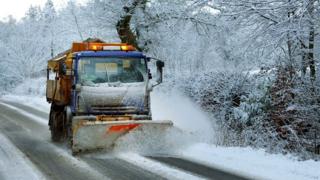 Martin reports on the wintry weather
Wintry weather is sweeping through parts of the UK, with warnings of high winds for much of the west and north.
BBC weather reporter Simon King told Newsround: "The focus now is on the winds and heavy rain on Wednesday. This will be felt right across the UK".
Snow fell on Tuesday, mostly across parts of Scotland and Northern Ireland.
In west Wales, a tornado hit 24 homes and a bolt of lightning struck two properties - two people were taken to hospital.
More than 200 schools are closed across Scotland, Wales and Northern Ireland.
Watch more Newsround videos