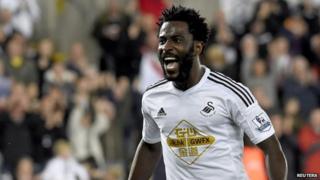 Reuters
Ivorian striker Wilfried Bony has completed a £28m transfer to Manchester City in a four-and-a-half year deal.
Bony is on duty for Ivory Coast ahead of the Africa Cup of Nations.
"It's a great feeling for me, it's a big honour to be here and it's a great challenge," the 26-year-old striker said.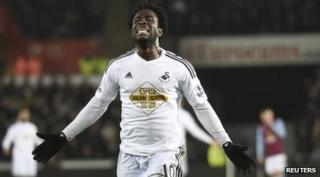 Reuters
The two clubs agreed a £28m deal for Bony at the weekend, with £25m cash up front and £3m more dependent on how well he does at City.
"As a player it's always good to be part of one of the biggest clubs in the world and it's a good opportunity for me to be in that situation now - I'm really proud," Bony told Manchester City's website.
"I felt excited to wait for this moment and now it's come, it's fantastic."
Top scorer
City boss Manuel Pellegrini said: "He is an intelligent footballer who has skill and power. His goals record has been excellent since he came to England.
"He adapted very quickly to the game here and I think he will settle in at City quickly. We now have four top-class strikers and I am looking forward to seeing them work together."
Bony joined Swansea for a club-record £12m from Vitesse Arnhem in 2013 and was the Premier League's top scorer in 2014 with 20 goals.
He has scored nine times in 22 appearances this season.