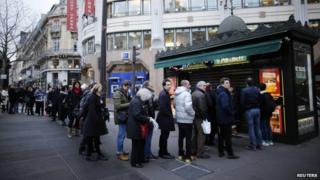 Reuters
The latest copy of French magazine Charlie Hebdo has sold out, a week after terrorist attacks at its offices.
Usually 60,000 copies of the magazine are printed, but this week five million copies of the magazine went on sale in 25 countries.
Profits from the sales will be given to the families of the people who lost their lives in the attacks last week.
Newsagents in France said that lots of people wanted to buy a copy, with long queues forming at some shops.
On Sunday more than a million people marched through Paris to show that the world stands united against terrorism.
The full story: Find out more about why the attacks happened