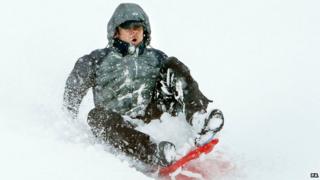 PA
Parts of the UK were dusted with snow on Tuesday evening, and weather forecasters are predicting more today.
The Met Office said snow is likely to fall across the UK, with most of it in Scotland. Strong winds are also expected.
Some schools in Wales have already had to close because of the snow, and some train services in Scotland are cancelled.
Has it snowed near you?
Is your street covered in snow? Does your garden look like a winter wonderland?
Pictures: Have a look at your snowy pictures
Send your photos to newsroundpix@bbc.co.uk - and include your name and where you're from.
You must ask your parent, teacher or guardian for permission before you send us a picture or video. Please also include a contact phone number so that we can speak to them.
We may show your picture or video on our website or in our TV bulletins. We'll show your first name and which town you're from - but we won't use your details for anything else.