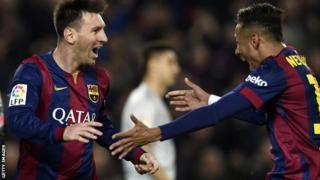 Getty Images
Barcelona forward Lionel Messi says "I don't know where I'll be next year," but he says he does want to stay at the La Liga club.
The Argentina captain had said that rumours of him moving clubs at the weekend were "lies".
But the 27-year-old said "nobody knows what the future holds" at Monday's Ballon d'Or ceremony in Zurich.
He lost out to Real Madrid's Cristiano Ronaldo as world footballer of the year for the second year in a row.
Messi was asked if he thought he would end his career at Barcelona.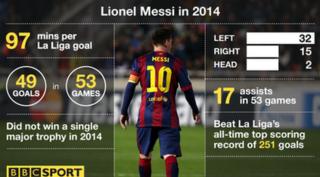 "I'm not sure what's going to happen," he said.
"I don't know where I'll be next year although I've always said I want to end my career at Barcelona."
It had been suggested La Liga's record goalscorer might leave the club following reports of a training-ground row with manager Luis Enrique, who took over last summer.
He has spent his entire career at the Nou Camp, winning three Champions Leagues and six La Liga titles as well as four world footballer of the year awards, since making his debut in 2004. He is contracted until 2019.
After scoring in Sunday's 3-1 victory over Atletico Madrid, Messi said: "I have no intentions of leaving for any team, not Chelsea nor Manchester City.
"I'm tired of all the things that people have been saying."