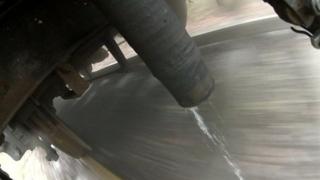 Poo problem for UK train tracks
Did you know the UK still has hundreds of trains that dump poo onto the train tracks?
It's thought that one in every ten trains still doesn't have a tank on board to store the waste.
People that live near the railway are left with a stinky situation and there are even health concerns.
Susan Lea, from Flintshire, has a railway line next to her house and has had toilet waste from a train blown into her garden.
She said: "It was all over my washing, all over the garden, all over the fence, all over the chairs, all over the floor, it was everywhere!"
According to research by BBC Inside Out West Midlands, four train companies still dump poo onto the tracks.
Seb Gordon, from Rail Delivery Group, said: "The rail safety organisation has looked into it and has found that it's a relatively low risk."
Nevertheless, he said this was a problem rail companies took "seriously", and investment in new carriages meant it was "an issue with fewer trains".
Watch more Newsround videos