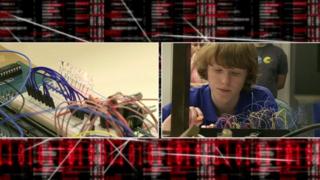 Young coders enter Cyber Games
Would you know how to stop a nuclear meltdown, or use a World War Two encoding machine?
It may sound like something from a movie but these were all challenges set at a massive code-breaking competition, run by Cyber Security Challenge UK.
Hundreds of schools entered the Cyber Games, but only eight teams made it through to the final.
The finalists were challenged to crack as many codes as they could!
Cyber security has some interesting career opportunities for young people, but the UK is short of people who understand cyber security and why it's important.
Watch Martin's report from the final.
Watch more Newsround videos