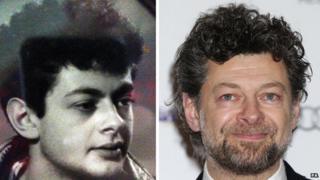 PA
Andy Serkis, the voice behind Gollum in the Lord of the Rings and Hobbit films, is one of a number of celebrities calling for more foster parents.
He and other celebs have released pics of themselves as teenagers.
It's part of a campaign by kids' charity Barnardo's, to find more people to foster children in the UK.
The charity wants to recruit 500 foster carers in 2015. It says there is a shortage: more than 8,600 are needed in the UK.
What is fostering?
Children and young people sometimes can't live with their own parents.
Fostering is when another family temporarily takes care of a child or young person in their own home, until they can go back to their parents or more long term arrangements are made.
A third of all children in foster care move between different families more than twice every year because there aren't enough suitable foster carers.
The number of children in the care system in the UK has risen for the eighth year in a row to more than 90,000.
You can find out more about fostering in The Real Tracy Beaker: a Newsround Special.
Dani Harmer, who plays Tracy in the hit CBBC series, speaks to children about their real-life experiences of what it's really like to grow up in care.