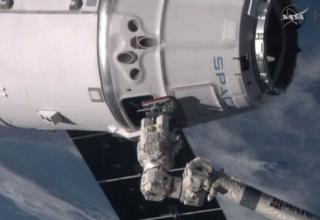 NASA
SpaceX's Dragon capsule has successfully docked with the International Space Station.
It has delivered much-needed supplies for the astronauts on board.
Commander Butch Wilmore used a robot arm to grab the capsule and bring it towards the ISS.
The space station's six astronauts were low on supplies because a previous supply ship - owned by Orbital Sciences - was destroyed in an explosion in October.
Last week, SpaceX launched a different rocket which it hoped could return to Earth and be reused.
But the rocket came back down to Earth and broke apart.