Now have a look at these amazing goals. They are all up for Fifa's goal of the year award.
A few weeks ago on Newsround we showed you this great volley by Stephanie Roche, who plays for an Irish team but when this went online she has now been signed up by the top French side ASPTT Albi.
She's up against massive stars James Rodriguez and Robin Van Persie.
In the past, the award has gone to some big names, including Cristiano Ronaldo and Neymar.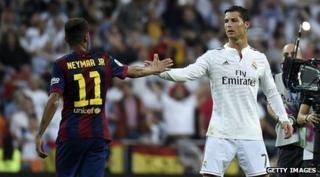 Getty Images
Can Stephanie Roche be the first woman to pick up the award?
We want to know who you think will win?
This chat page is now closed.