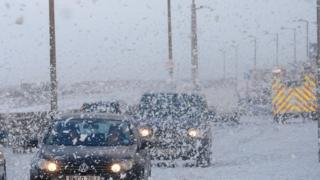 PA
Parts of the UK are being warned of more bad weather to come as thousands of homes are still without power.
Almost 13,000 people in the north of Scotland are without electricity after strong winds brought down power lines on Friday.
Engineers have been working through the night to restore power, but the bad weather has made it difficult.
There are also still flood alerts in Scotland as well as England and Wales.
A Met Office yellow "be aware" warning for snow and ice is in force for most of Scotland, as well as Northern Ireland and the north of England, Yorkshire and Humberside and the East Midlands.
Severe gales and storms have been forecast for north of Scotland on Monday.