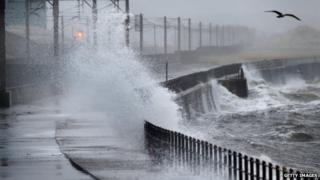 Getty Images
In Scotland strong winds have caused massive disruption to power lines and transport networks and have left thousands of homes without electricity.
Engineers have been working overnight to reconnect power to almost thirty thousand properties, but have been been struggling because of the bad weather conditions.
What's the weather been like where you live?
This page is now closed.
Remember, don't put yourself or other people in any danger when taking photos.
You must ask your parent, teacher or guardian for permission before you send us a comment. We may show your comment on our website or in our TV bulletins. We'll show your first name and which town you're from - but we won't use your details for anything else.