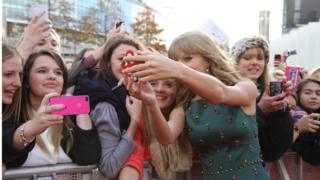 BBC
Famous golfer Rory McIlory has said that Manchester United legend Roy Keane refused to give him an autograph when he was a child.
He said that, because of this, he will never refuse to sign a child's autograph.
This got us thinking - have you met anyone famous and, if so, who was it? Did you talk to them? Pose for a selfie? Or did they refuse to talk to you?
This chat page is now closed, thanks for your comments.
I met Jonnie Peacock in the summer at an athletics competition at Loughborough - he was fab, gave me his autograph and posed for a photo!
Alex and Callie, England
I've meet 1D on my birthday at London when they were filming and they sang Happy Birthday to me. I got their autographs and Louis hugged me.
Rebekah, England
I've met DanTDM twice. It was a very long wait but finally Dan came out. I gave him a card and he gave me his signed book. I also had a photo with him - it was an awesome day!
Joseph, 14, Northamptonshire
You must ask your parent, teacher or guardian for permission before you send us a comment. We may show your comment on our website or in our TV bulletins. We'll show your first name and which town you're from - but we won't use your details for anything else.