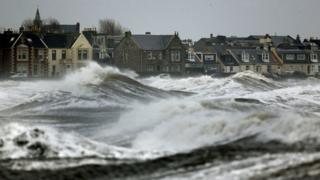 PA
Parts of Scotland, Northern Ireland and the far north of England can expect some wild weather overnight and early tomorrow morning.
Winds of up to 100mph are expected to hit the very far north coast of Scotland, the Western Isles and Orkney.
The Met Office, who monitor the weather in the UK, have also warned of flooding in Scotland.
Other parts of Scotland, Northern Ireland and England are predicted to be hit with 80mph winds and heavy rain.
If you live in the north of the UK, there's also a chance of snow - especially in hilly areas.
The wild weather is down to a fast jet stream moving across the Atlantic Ocean.
A jet stream is a current of wind that moves very high in the sky.
The one heading towards the UK is travelling at around 250mph - and that will cause the wild wind over the next couple of days.