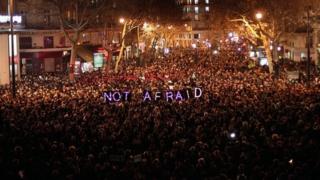 Attack on French traditions and beliefs
In Paris, tens of thousands of people have been protesting about the importance of free speech. So why is this happening?
France is holding a day of national mourning. Today at midday the whole country held a minute's silence.
It's to pay tribute to those who lost their lives in a horrific attack on a the office of a magazine in Paris, on Wednesday. Twelve people were shot and killed.
The BBC's Lyse Doucet explains that the attack is being seen as an assault on the beliefs that unite France.
Watch more Newsround videos