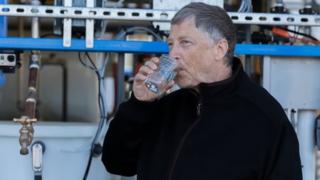 Turning poo into drinking water
Billionaire businessman and charity boss Bill Gates has revealed a machine that turns human poo into drinking water, generating power in the process.
A post on his blog shows a video of him drinking a glass of water that just minutes earlier was human sewage.
The video is trying to raise awareness of a huge problem in poorer parts of the world, where over 2 billion people can't get access to fresh water.
Without proper toilets, disease can spread all too easily, putting many lives, especially children's, at risk.
Now a company in America has produced a machine, called an Omniprocessor, that not only safely gets rid of poo but converts it into water that's safe to drink, and produces electricity to spare.
Its makers are hoping that if they can get it working in developing countries, it could save millions of lives every year.
Watch Hayley's report to find out how it works.
Watch more Newsround videos