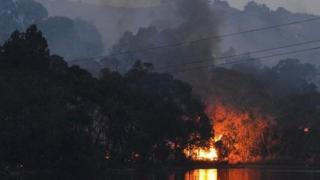 Firefighters battle bushfires in southern Australia
Hundreds of firefighters are tackling some of the worst bushfires to hit South Australia for more than 30 years.
They've been burning since Friday and firefighters say they're racing to get them under control before Wednesday, when bad weather is expected.
Helicopters carrying huge buckets of water have been spraying the area to try to put out the flames.
It's thought more than 30 homes have been destroyed near the city of Adelaide.
Twenty-two people, mostly firefighters, are reported to have suffered minor injuries.
Watch more Newsround videos