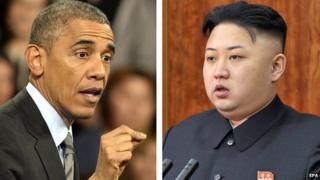 EPA
The US has placed sanctions on North Korea in response to a cyber attack against Sony Pictures.
They believe that North Korea was behind the attack on the film company but they have denied having any involvement in it.
Economic sanctions have been placed on three organisations in North Korea and 10 people, although the US say they were not directly involved with the cyber attack.
North Korea has responded angrily, calling the US "hostile" and accusing them of imposing the sanctions to try and save face and to tarnish the image of North Korea.
The Interview
The cyber attack on Sony Pictures happened in November when private emails and personal details about actors were leaked.
Then in December, the hackers threatened to attack cinemas that showed a film they were about to release called The Interview.
The film is a comedy about Kim Jong-un, the leader of North Korea and a plot to kill him. The government in North Korea was offended by the film.
The FBI, who investigated the attack on Sony, concluded that North Korea was behind the hack, but they denied this and even proposed a joint investigation with the US into the cyber attack.
Because of the threat, many cinemas backed out of showing the film and Sony cancelled plans to release it. But just a few days later, they decided to release it for a limited time online and at a limited number of cinemas.