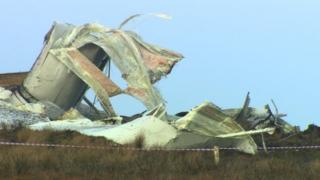 Wind turbine collapses in Northern Ireland
An 80-metre tall wind turbine has collapsed on a mountainside in County Tyrone, Northern Ireland.
People living near the area reported hearing loud banging noises coming from the Screggagh wind farm for around two days.
Debris from the turbine has been scattered over hundreds of metres but no one has been hurt.
It's not clear what caused the collapse but bad weather isn't thought to be a factor, as there were no storms or high winds at the time.
The company who operate the wind farm are now investigating.
Turbine 3 was one of eight turbines on the wind farm and is worth more than half a million pounds.
Watch more Newsround videos