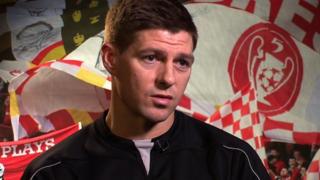 Gerrard is 'excited' about MLS move
Liverpool captain Steven Gerrard has spoken about his move to America and says he's "excited" about it.
The Reds midfielder had announced on Friday that he plans to leave the club after the end of the season, calling it the "toughest" decision of his life.
Gerrard will join a Major League Soccer (MLS) club in America but he says he is yet to agree terms with a club.
"I'm not over the line with any team yet. I'm close and as soon as I know, I'll make the announcement."
In the interview with Liverpool FC's website, Gerrard said he had been "blown away" by the reaction to the news that he is to leave Liverpool.
"I can't read much of the reaction at the moment. I keep switching the TV over," he said.
"I didn't realise it would be as big as this. It's very flattering and I'm very humbled by it."
Meanwhile, Gerrard's teammates have spoken at their shock over his decision to leave.
Video courtesy of Liverpool Football Club TV.
Watch more Newsround videos