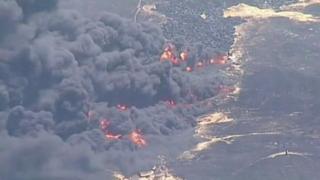 Firefighters battle bushfires in Australia
Homes in South Australia and Victoria are being threatened by out-of-control bushfires there.
Firefighters are attempting to battle the bushfires from the ground and air, while police have declared a major emergency.
People living in the affected areas have been told to leave their homes.
South Australia's fire chief said the blazes in the Adelaide Hills were the worst they have experienced in 30 years.
So far around five homes have been destroyed there but authorities say this number will likely rise as strong winds intensify the flames.
High temperatures and strong winds have so far affected firefighters attempts to control the blazes.
Watch more Newsround videos