An abandoned ship carrying hundreds of people has docked safely at a port in Italy.
More than 400 refugees from Syria were onboard the Ezadeen ship when it was abandoned by its crew.
They were given food and water on arrival at the port and were said to be in relatively good health, according to the coastguard.
Italian authorities are now taking the refugees by bus to other parts of Italy.
Alarm raised
A passenger onboard managed to raise the alarm that the ship was drifting with no one in control of it.
Rescuers from the Italian coastguard were lowered on to the ship and it was then towed by an Icelandic vessel to the port of Corigliano Calabro.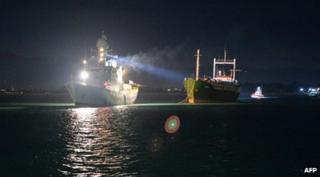 AFP
Refugees fleeing war torn Syria want to travel abroad for a better life and often cross in unsafe boats, headed for Italy and Greece, despite it being dangerous and illegal.
People smugglers, who usually organise the crossings, often abandon the vessels at sea to avoid arrest.
Almost 1,000 people were rescued from another ship, the Blue Sky M, found abandoned without any crew earlier in the week.