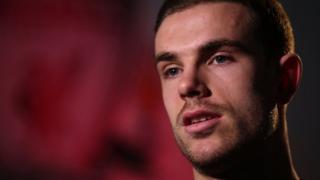 Gerrard to play in America after Liverpool exit
Liverpool FC's official twitter account has confirmed that Steven Gerrard will play in America.
Liverpool captain Gerrard, who has been at the club for 25 years, announced on Friday that he is leaving the club when his contract expires.
Liverpool midfielder Jordan Henderson says Steven Gerrard's decision to quit the club at the end of the season was "a big shock".
Speaking to Football Focus, the midfielder said none of the players had a clue and they thought Gerrard would renew his contract with the club.
The club's official twitter account confirmed rumours of a US move for Gerrard, saying he will move to America this summer.
Henderson said his departure will be difficult for players as Gerrard has been the leader of their group for many years.
Watch more Newsround videos