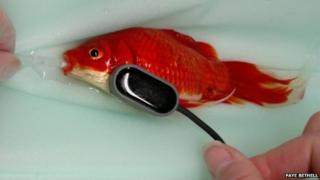 Faye Bethell
A goldfish which was constipated has undergone an hour long operation in Norfolk.
The owner of the goldfish took it to the vets when he noticed it wasn't well and paid £300 for the surgery.
The fish had a lump blocking its bottom, which vet Faye Bethell successfully managed to remove.
The goldfish was kept wet throughout the operation and its heart rate was monitored with a tiny probe.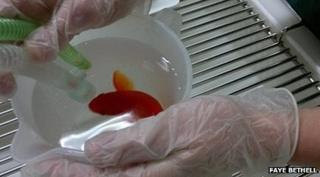 Faye Bethell
"At the end of the day they're all pets and everybody does have a commitment to their pet," Miss Bethell said.
"The goldfish was constipated because he had a lump blocking his bottom, rather than because of his diet or any other reason," she said.