Metal detector fans in Buckinghamshire, England, have uncovered one of biggest collections of ancient coins ever found in Britain.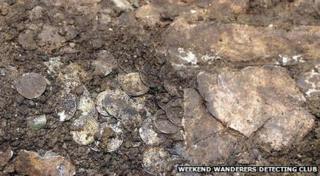 Weekend Wanderers Detecting Club
Paul Coleman from the Weekend Wanderers Detecting Club discovered more than 5,000 coins buried inside a lead bucket more than half a metre under a field near Aylesbury.
The trove contains coins dating back nearly 1,000 years ago - the late Anglo Saxon, early Norman period.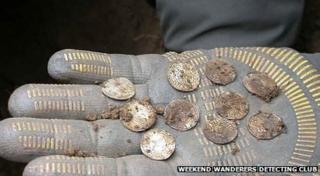 Weekend Wanderers Detecting Club
A spokesman for the national club said those on the dig had "agreed this was the most exciting day of their detecting lives".
The coins will now be taken to the British Museum in London, where an expert must decide whether this is actual "treasure".
A museum could then buy them with the money raised being split between the landowner and the finder.
The largest British collection of Anglo Saxon treasure was found in a field near Lichfield in Staffordshire in July 2009.
The 7th Century hoard of 1,600 items including helmet parts and crosses was valued at more than £3 million.
Anglo Saxons
Anglo-Saxon refers to settlers from the German regions of Angeln and Saxony who began attacking Roman Britain in AD410

The invaders were generally called "Saxons" by their neighbours.

By AD500, many had settled in the east of England

The Anglo-Saxons had their own religious beliefs, but the arrival of Saint Augustine in AD597 converted most of the country to Christianity

The Anglo-Saxon period lasted about 600 years and ended in 1066 with the Norman Conquest
Source: BBC History