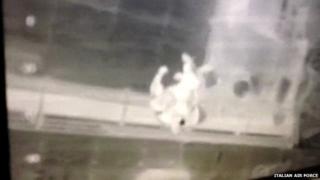 Italian Navy reaches abandoned ship
Italian authorities say they have taken control of a ship carrying 450 migrants that was abandoned by its crew off the coast of Italy.
Footage showed a member of the Italian Coast Guard being lowered onto the Ezadeen.
The ship, sailing under the flag of Sierra Leone, has no crew on board and has lost power in rough seas.
James Reynolds reports.
Watch more Newsround videos