Italian authorities have taken control of a ship carrying 450 people that was abandoned by its crew off Italy's coast.
The Italian coast guard said it was now heading to the port of Crotone after a rescue team managed to board the ship.
The Ezadeen lost power overnight off the south-east of Italy.
Italian Coast Guard Commander Filippo Marini told reporters that children and pregnant women were among the passengers on the vessel, most of who were believed to be Syrians escaping from their country.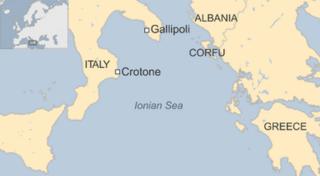 Almost 1,000 people were rescued from another ship, the Blue Sky M, found abandoned without any crew earlier in the week.
The Italian Red Cross had previously said that four people were found dead on the ship.
But now officials now say no-one is known to have died on the ship, according to news service Reuters.
Growing problem
Civil war in Syria has increased the number of refugees crossing the Mediterranean this year.
The refugees often cross in unsafe boats, headed for Italy and Greece.
The passengers want to travel abroad for a better life but this way is illegal and dangerous.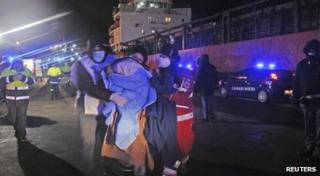 Reuters
People smugglers, who usually organise the crossings, often abandon the vessels at sea to avoid arrest.
The United Nations refugee agency says 160,000 people arrived by sea in Italy by November 2014 and a further 40,000 in Greece.
Thousands have died attempting the journey.