A cargo ship reportedly carrying nearly 900 people has docked in the Italian port of Gallipoli after the crew apparently abandoned ship off the coast of Greece.
The Blue Sky M was at one point heading directly towards the Italian coast on autopilot.
The Italian authorities took control of the ship at sea and brought it safely to shore.
It's thought the passengers were mostly Syrians escaping from their country.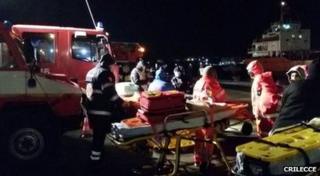 CRILecce
They were taken to a local school and gymnasium to be looked after.
The Italian Red Cross says at least four migrants on board have been found dead.
Growing problem
Civil war in Syria has increased the number of refugees crossing the Mediterranean this year. The refugees often cross in unsafe boats, headed for Italy and Greece.
The passengers want to travel abroad for a better life but this way is illegal and dangerous.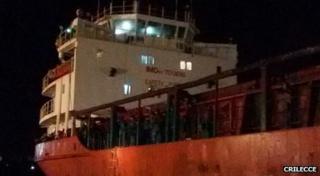 CRILecce
People smugglers, who usually organise the crossings, often abandon the vessels at sea to avoid arrest.
The United Nations refugee agency says 160,000 people arrived by sea in Italy by November 2014 and a further 40,000 in Greece.
Thousands have died attempting the journey.