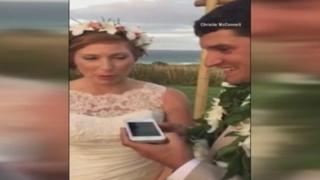 Obama sorry for wedding move
President Barack Obama has said sorry to a newlywed couple who had to move their wedding because he wanted to play golf.
US Army Captains Natalie Heimel and Edward Mallue Junior had planned to get married on the golf course of Hawaii's Marine Corps base.
But they were forced to change venues at the last minute because of the president's golf plans during his holiday on the American island.
So the couple moved their ceremony to a nearby garden, where they took Mr Obama's phone call apology.
During the call, Mr Obama said no one had told him about the switch until it was already arranged.
Watch more Newsround videos