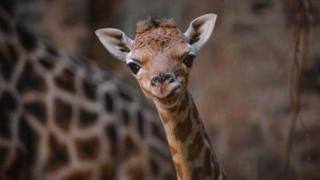 Rare baby giraffe born in the UK
Visitors to Chester Zoo are getting their first glimpse of a rare baby giraffe born just before Christmas.
Keepers have named the female Rothschild's giraffe calf Zahra, which means 'flower' in Swahili.
The 1.8m tall calf was born to mum Aiofe and dad Meru.
Rothschild's are one of the world's most endangered sub-species of giraffe, with experts predicting that there are less than 1,100 left in the wild.
"We're happy to report that our new, not-so-little, youngster is doing well and is already confident on her long legs," said Tim Rowlands, the curator of mammals at Chester Zoo.
The zoo now has a herd of eight Rothschild's giraffes - Meru, Aoife, Dagma, Orla, Tula, Kanzi, Millie and Zahra.
Watch more Newsround videos