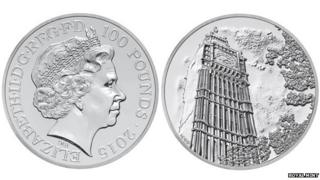 Royal Mint
A new £100 coin featuring London's Elizabeth Tower, which houses Big Ben has been minted to mark the start of the new year.
The Royal Mint in Llantrisant, Wales, has produced 50,000 of the special coins.
The coins, which contain 56 grams of silver, will be available at the value of £100.
The design was chosen in celebration of Big Ben's distinctive sound, which for many cues the start of the new year.
The design shows the clock tower from street level from the view of a person staring up towards the sky.
The coins have been designed as collector items and will not be something people will use to pay for things at the shops.