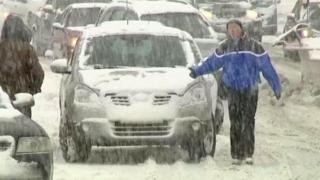 Snow leaves tourists stuck in France
Heavy snowfall and ice in the French Alps has caused huge problems for people travelling to and from ski resorts, leaving thousands stranded.
The authorities in the Savoy region, in south-east France, said up to 15,000 people spent Saturday night in emergency accommodation set up in local gyms and community halls.
Meanwhile, hundreds of air passengers were stranded at an airport in Chambery with some reporting a lack of facilities.
Two men died in separate accidents over the weekend because of the weather.
The cold weather has also caused disruption in the UK and Germany.
Watch more Newsround videos