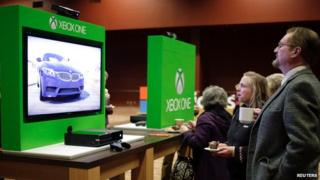 Reuters
Microsoft and Sony have been working to restore internet services for the Xbox and PlayStation consoles, after the services were disabled by computer criminals.
Computer hackers managed to disable Xbox Live and PlayStation Network on Christmas Day.
Millions of players were unable to register accounts, download games or play with other people over the internet.
On Saturday, Microsoft said it had restored Xbox Live to its 48 million users.
PlayStation Network has about 110 million subscribers and has taken a little longer to come back online.
On Saturday, Sony said: "PS4, PS3, and Vita network services are gradually coming back online - thanks for your patience."
It later added: "We are seeing reduced reports of network issues. We'll continue to monitor."
In November, Sony's film department - Sony Pictures Entertainment - was also hit by hackers who stole private information from the company.
Sony was targeted over its decision to release a film about a plot to kill the controversial leader of North Korea, Kim Jong-un.