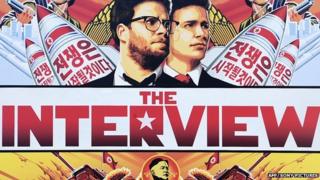 afp/sony pictures
A major Hollywood movie that was cancelled after a threat from hackers was released on Christmas Day.
The Interview is a comedy about Kim Jong-un, the controversial leader of North Korea. The government in North Korea was offended by the film, which suggested killing Kim Jong-un.
Sony Pictures, the company behind the film, was targeted by computer hackers in November. The hackers threatened to attack cinemas that showed the film, so Sony cancelled the release.
But some people said that was the wrong thing to do.
Actor Ben Stiller said: "Really hard to believe this is the response to a threat to freedom of expression here in America."
Now Sony Pictures has made the film available to watch online in the USA.
It's rated as only suitable for adults because it contains strong language and violence, and it still hasn't been released in the UK.
North Korea is angry that the film has been released.
A spokesperson said the film is "dishonest" and "hurts the dignity of the supreme leadership of North Korea".